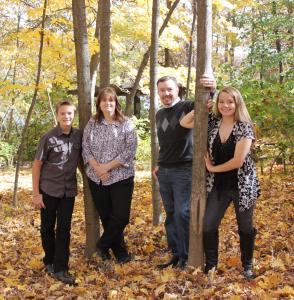 My name is Ron, and my wife Stacie and I have been married for 25 years and are the very proud parents of two amazing children.
My family and I started breeding Goldens in Central Illinois in 2002, however my experience in dog breeding goes back over 34 years. We are constantly learning and our goal to try and better our beloved breed as we go. We are a small breeder having only one litter per year. Our adults are AKC registered, OFA certified or PennHIP tested. They have also had the Golden Retriever genetic panel tested and none of the puppies we produce will be ever be affected. Raising quality, healthy, intelligent and well socialized Golden Retrievers in our home with great temperament is something my family and I are proud of. We have provided great homes for our many puppies over the last 20 years.
All of our pups will be thoroughly examined by our veterinarian Dr. Randy Brunswick (309-454-2458) at 7 weeks of age. At that time they will receive their first set of shots. The pups will be ready for their new homes at 8 weeks of age.
Please contact us at 309-212-4020 or our email rouseyecgr@gmail.com or through our Contact Form.