Welcome to Our Puppies Page!
Here we have information on current and upcoming litters. Please call or e-mail with any questions.
UPDATED 4-27-19
OUR 10 PUPPIES HAVE ARRIVED AND WE HAVE A FEW MORE DEPOSITS AVAILABLE!!!
We are excited to announce that if breeding was successful we will welcome a litter of outstanding English Golden Retrievers on or about 4-10-19. These puppies are out of our two resident champions Xander and Nova. Our puppies will be genetically clear of GR PRA 1/2, ICT, MD, DM, NCL and prcd-PRA. If you and your family have researched goldens for your next family member you will know that Xander and Nova are near unbeatable health wise. We expect blocky and substantial puppies with incredible temperaments. Please visit Xander and Nova's pages to learn more about them.
The puppies are raised in our home by the entire family. Our puppies receive round the clock care from birth until they leave our home at 8 weeks of age. My wife and I work different shifts and we raise our puppies like we did our children. They get lots of love and socialization before going to their new homes. We also do Early Neurological Stimulation on days 3-16. Research shows that ENS:
Improved cardio vascular performance (heart rate)
Stronger heart beats
Stronger adrenal glands
More tolerance to stress
Greater resistance to disease
We have heard great things about "Puppy Culture" and may incorporate it starting with this litter. We have been breeding for many years, but are always willing to learn new things as we hear or read research about it. Our goal is to always try and better our beloved breed as we go.
You can also follow us on Instagram @rouseygoldens OR Rousey Goldens on Facebook
Thank you!
K9data link for this litter: http://k9data.com/pedigree.asp?ID=930107
The breeding COI for this litter is 3.62%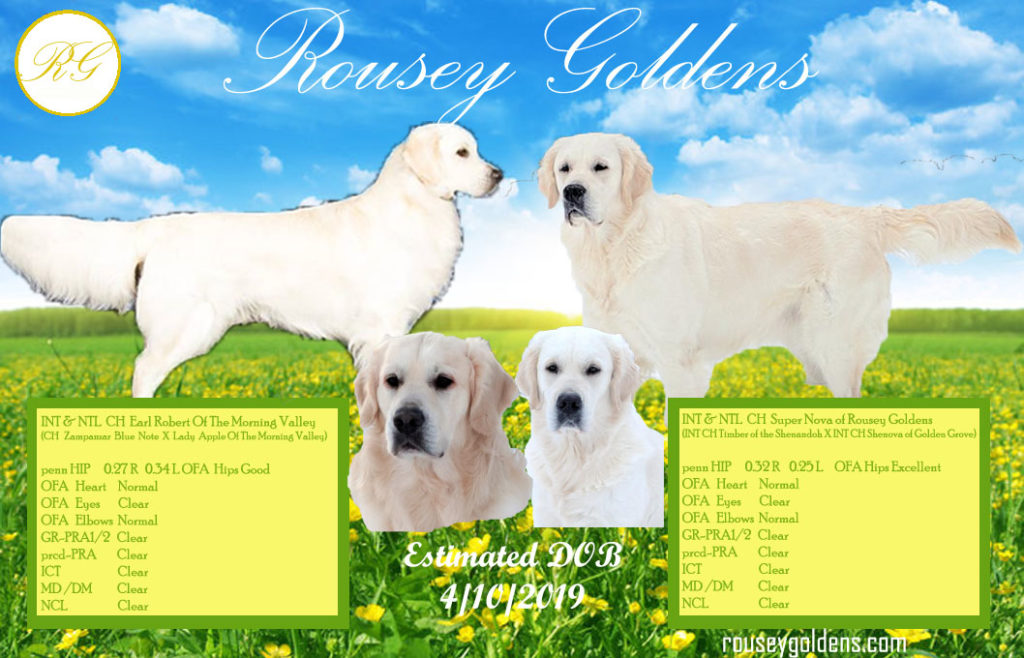 This link will take you to our video on YouTube. This will show you our past puppies and the area in which they are raised.
Female:
Reserved
CA
IL
Male:
1. Texas
2. PA
3. IL
4. IL
5. AZ
6.
Registration…
All of our puppies come with AKC limited or in some cases AKC full registration.
Reservations…
We ask that you fill out the puppy questionnaire and send it to us. We also ask that you thoroughly read and agree to the "Health Agreement". Then we require a $500 non-refundable deposit to hold a puppy for you. Balance is due when you pick up your puppy at 8 weeks of age.
* We accept 3 male and 3 female reservations/deposits for each litter. Puppies are placed in order of deposit given. WE DO HOWEVER RESERVE THE RIGHT TO HOLD CERTAIN PUPPIES FOR BREEDER HOMES. When we have met our reservations, we begin a waiting list. After the litter is born and reservations have been filled we will contact those on the waiting list for that specific litter.
* If we do not have a puppy for you, we will refund your deposit or you have the option of placing your name on the waiting list for a different litter.
– One year health guarantee
– First set of vaccination
– Wormed at 2, 4, 6 and 8 wks
– Veterinarian checked
– AKC registration papers
– AKC Puppy Folder
– AKC New Puppy Handbook
– Microchipped
6-26-16
****Some very exciting new to share! Piper and Nova's sire (the puppies grand-sire) just won Best of Breed and Best of Show at the IABCA Purina International dog show in St. Louis this weekend. Congratulations Robin and Timber!!!****
Save
Save
Save
Save
Save
Save
Save
Save
Save
Save
Save
Save
Save
Save
Save
Save
Save
Save
Save
Save
Save
Save
Save
Save
Save
Save
Save
Save
Save
Save
Save
Save
Save
Save
Save
Save
Save
Save
Save
Save
Save
Save
Save
Save
Save
Save
Save
Save
Save
Save
Save
Save
Save
Save
Save
Save
Save
Save